Let's find out more about the Year of the Laity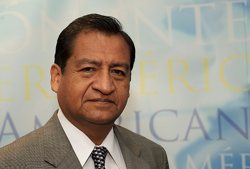 Special interview with Pastor Melchor Ferreyra, Personal Ministries Director, Inter-American Division
How many laypeople do we have in the IAD? The IAD is one of the largest divisions in terms of membership in the world. Therefore, it is the same when it comes to the living forces of the church. We can estimate that we have an army of some 3 million laypeople in our territory! We want to involve 30 percent of our membership in the work of witnessing. That means one million active laypeople in any of the five areas: preaching, Bible instructors, witnessing, small group leaders, and global mission pioneers.
Why assign 2013 as the Year of the Laity? Because church members in Inter-America are the most important and deserve the best. We have already approved the day of the laity and it was good. We have already done lay congresses and these were good. But now, we want this to be more than an event that comes and goes. We want a DIFFERENT YEAR in the life of the laity, which means more commitment on behalf of church leaders to prepare material and dedicate resources to strengthen the laity of Inter-America.
Roughly speaking, what is will be proposed during the Executive Committee on October 27 this year?After designating the year 2013 as the special year in Inter-America, we will propose a schedule of events and activities for the year, which include celebrations, gatherings, special baptisms, evangelistic efforts and community impact events. We will share more details of these initiatives in the coming weeks.
When 2013 finishes, what benefits will the church draw from all of these activities? The greatest benefit will be that each one will have participated in the divine task of preaching the gospel and will occupy an important place in the beautiful work of sharing the message with others.
We will have more recruits among the laity who will be trained, committed, equipped, motivated and ready to move forward toward the finishing of the preaching of the gospel in their communities.
We welcome you! Join this project and take the vote together with us from Honduras on Oct. 27, 2012, and share the news with the laypeople in your territory. Now is the time! Amen.
---
Conozcamos más del Año del Laico - Entrevista Especial con el Pastor Melchor Ferreyra, Director de Ministerios Personales de la División Interamericana
¿Cuántos Laicos hay en el territorio de la DIA? La División es una de las más grandes en términos de feligresía en el mundo, por lo tanto también lo es en las fuerzas vivas de la iglesia. Podemos decir que aproximadamente contamos con un ejército de ¡tres millones de Laicos en nuestro territorio!, sin embargo queremos involucrar al treinta por ciento de nuestra feligresía en las tareas de testificación, eso significa un millón de Laicos activos en cualquiera de las áreas de trabajo: Predicadores, instructores bíblicos, testificadores, líderes de GPs. y Pioneros de Misión Global.
¿Por qué designar al 2013 como el Año del Laico? Porque los miembros de iglesia en Interamerica son lo más importante y merecen lo mejor. Ya hemos probado con el día del Laico y estuvo bien, ya hicimos congresos de Laicos en Interamérica y estuvo bien. Pero ahora queremos más que un evento que "vino y se fue", queremos UN AÑO diferente en la vida de los laicos, eso es más compromiso de los líderes de la iglesia en preparar material y dedicar recursos para fortalecer a los laicos de Interamérica.
A grandes rasgos, ¿cuál es la propuesta que se llevará a la junta de la DIA el 27 de octubre de este año? Después de haber designado al 2013 como un año especial en Interamérica, propondremos una hoja de ruta con el calendario de actividades para el año, que incluye celebraciones, convocatorias, bautismos especiales, despliegues evangelísticos y eventos de impacto a la comunidad. En las próximas semanas compartirermos más detalles de estas iniciativas.
Cuando finalice el año 2013, ¿qué beneficios habrá sacado la Iglesia de todas estas actividades? El beneficio más grande será que cada uno habrá participado de la tarea divina de la predicación del evangelio y ocupará un lugar importante en la labor hermosa de compartir el mensaje con otros. Tendremos más laicos reclutados, comprometidos, capacitados, equipados, motivados y listos para avanzar hacia la terminación de la predicación del evangelio en su comunidad.
Bienvenido, únanse al proyecto y tomen el voto junto con nosotros desde Honduras el 27 de octubre del 2012 y compartan con los laicos de su territorio ¡Ahora es el tiempo! Amén.